NORTH AMERICA BOERBOEL BREEDERS ASSOCIATION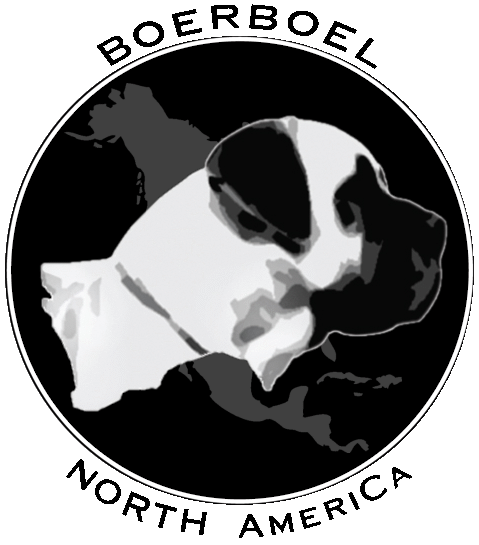 Spring Appraisal Tour - 2016
Spring Appraisal Tour - 2016
2020 Spring Appraisal Tour - UPDATES
We pray everyone has been safe and healthy through the shut down due to Covid-19.
NABBA hasn't forgot about the upcoming appraisal venues, just waiting to see how the
states were going to open up.
If you have not renewed your membership, the fee has increased to $100 because renewal was due by March 31, 2020.
For those that have requested new membership but have not paid should do so especially if you plan on having boerboels appraised.
​
For the following venues that were scheduled for April but were postponed due to Covid-19, these will be rescheduled
very soon. The location and start time will remain the same.
Jennings LA 70546
Oil and Gas Park
100 Rue de l'Acadie
Time: 9:00 AM
Houston, TX 77015
LaQuinta Inn
5520 E. Sam Houston Parkway N.
Time: 10:00 AM
​
The rest of the venues remain the same at this time. Please see the home page on our NABBA site under 'upcoming events' that lists all the details.
For the venues in California (2), Washington State (1) and Vegas (1), those venues will be scheduled sometime in June as more states open up due to the Covid-19. The Covid-19 virus has really been difficult on everyone, but NABBA is working to provide the appraisal venues on a timely basis.
If you need your dog(s) appraised, you will need to pre-register and pay through the email office@nabba-inc.com
as the website has not been updated. I will see if that can be done soon and if not, please continue to email the
office with the location and attach a copy of the dog(s) that you want appraised. Please email the office, do not
put on Facebook as we will not see it.
You will be kept up to date on the appraisal.
​
Be safe everyone and we look forward to seeing you and your dogs soon!
Merry Christmas and Best Wishes for the New Year
On behalf of all of us here at the NABBA office, we'd like to wish all of our members and their families a very Merry Christmas! Wishing you peace, love, good health and prosperity in 2020!
November 9 appraisal in California is CANCELLED
Attention members - the venue in California originally booked for November 9th has been CANCELLED.
Please reload
APRIL 2 - FLORIDA
Mary Holland Park, Pavilion #13
Bartow, FL 33830
Start time @ 10am
APRIL 14 - LOUISIANNA
Oil & Gas Park
100 Rue de L'Acadie
Jennings, LA 70546
Start time @ 9am
APRIL 16 - TEXAS
Andy K. Wells Pavilion
2201 E. Veterans Memorial Blvd.
Killeen, TX 76543
Start time @ 9am
Host: AJ Holleman (254) 780-6119
APRIL 17 - TEXAS
LaQuinta Inn & Suites
4850 West John Carpenter Freeway
Irving, TX 75063
Phone: 1-972-915-4022 (Pet Friendly)
Start time @ 9am
APRIL 23 - COLORADO
5728 County Road 59
Florissant, CO 80816
Start time @ 10am
Host: Danny Morales (dmorales2@uccs.edu)
APRIL 28 - MISSOURI
Veterans Park 1000-1098 Wood St.
Fulton, MO 65251
Start time @ 9am
Host: Eric Gramlich
MAY 4 - OHIO
Winton Woods Park
11555 Winton Road
Forest Park, OH (outside of Cincinnati) 45240
Start time @ 9am
Host: Danielle (parleboerboels@gmail.com)
MAY 7 - NEW YORK
6089 Morrell Road
Cayuta, NY 14824
Start time @ 10am
Host: Glenwood Reed
MAY 14 - PENNSYLVANIA
West Earl Community Park (off Route 772)
189 South State Street
Leola, PA 17540
Start time @ 9am
Host: Tami Banks/Christine
MAY 21 - NORTH CAROLINA
The Lodge at Flat Rock
42 McMurray Road
Flat Rock, NC 28731
Phone: 828-693-9910 (Pet Friendly)
Start time @ 10am