NORTH AMERICA BOERBOEL BREEDERS ASSOCIATION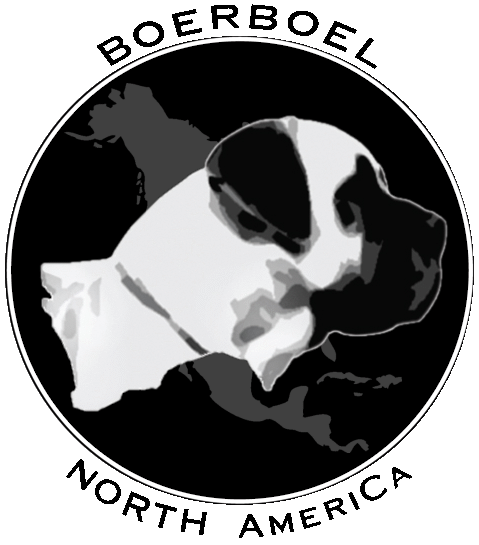 Spring Appraisal Tour - 2016
Spring Appraisal Tour - 2016
2020 Spring Appraisal Tour - UPDATES
We pray everyone has been safe and healthy through the shut down due to Covid-19.
NABBA hasn't forgot about the upcoming appraisal venues, just waiting to see how the
states were going to open up.
If you have not renewed your membership, the fee has increased to $100 because renewal was due by March 31, 2020.
For those that have requested new membership but have not paid should do so especially if you plan on having boerboels appraised.
​
For the following venues that were scheduled for April but were postponed due to Covid-19, these will be rescheduled
very soon. The location and start time will remain the same.
Jennings LA 70546
Oil and Gas Park
100 Rue de l'Acadie
Time: 9:00 AM
Houston, TX 77015
LaQuinta Inn
5520 E. Sam Houston Parkway N.
Time: 10:00 AM
​
The rest of the venues remain the same at this time. Please see the home page on our NABBA site under 'upcoming events' that lists all the details.
For the venues in California (2), Washington State (1) and Vegas (1), those venues will be scheduled sometime in June as more states open up due to the Covid-19. The Covid-19 virus has really been difficult on everyone, but NABBA is working to provide the appraisal venues on a timely basis.
If you need your dog(s) appraised, you will need to pre-register and pay through the email office@nabba-inc.com
as the website has not been updated. I will see if that can be done soon and if not, please continue to email the
office with the location and attach a copy of the dog(s) that you want appraised. Please email the office, do not
put on Facebook as we will not see it.
You will be kept up to date on the appraisal.
​
Be safe everyone and we look forward to seeing you and your dogs soon!
Merry Christmas and Best Wishes for the New Year
On behalf of all of us here at the NABBA office, we'd like to wish all of our members and their families a very Merry Christmas! Wishing you peace, love, good health and prosperity in 2020!
November 9 appraisal in California is CANCELLED
Attention members - the venue in California originally booked for November 9th has been CANCELLED.
Please reload
SEPTEMBER 29 - VIRGINIA
Occeneeche State Park - Phone: (434) 374-2210
1192 Occeneeche Park Road
Pavilion No. 2
Clarksville, VA 23927
Start time @ 10am
Host: David Malcom (434) 838-0213
OCTOBER 1 - PENNSYLVANIA
West Earl Community Park
189 S State St.
Leola, PA 17540
Start time @ 10am
OCTOBER 8 - MISSOURI
2123 ST Hwy. KK
Oak Ridge, MO 63769
Start time @ 9am
Host: Melinda Hemmann (573) 987-8900
OCTOBER 12 - LOUISIANA
171 Chambers Lane
Palmetto, LA 71358
Start time @ 10am
Host: Jason Drummer (337) 592-2821
NOVEMBER 5 - FLORIDA
1916 Woodville Hwy.
Crawfordville, FL 32327
Start time @ 10am
Host: Sean Crawford (850) 949-9186
​
NOVEMBER 19 - CALIFORNIA
6904 Automall Parkway
Gilroy, CA 95020
Start time @ TBD
Host: Max Tran (408) 712-3845
NOVEMBER 20 - CALIFORNIA
Whittier Narrows Recreation Area
900 Lexington Gallatin Road
South El Monte, CA 91733
Start time @ 10am
Host: Gabriel Medel (626) 831-8762
DECEMBER 17 - FLORIDA
Mary Holland Park
Bartow, FL 33830
Pavilion No. 13
Start time @ 10am